Discover more from Alfred's Newsletter
Creativity, connection and making a living
Introducing Already There - Mindfulness in the time of quarantine [alfred newsletter] #5
Hello friends,
I hope you're all finding ways to stay safe and make the most of this unprecedented time we are in. Or chilling out maxing relaxing all cool. That's fine too.
We are going to come out on the other side more resilient and centered. It seems like the whole world is getting a needed time-out to rethink things.
While I had meant for this time to go wide and explore new possibilities, I've been getting a lot out of staying still and bringing side projects to completion.
I'm finally launching Already There. It's a project that's been lingering the back burner for almost a year.
Already There
Already There is my mindfulness project, starting out with a daily journal. It's meant to help you shape a positive, present-oriented perspective in the world, so you can start creating your most aligned work today.
It mixes in daily gratitude practices, savoring, and a concoction of positive practices to start and end each day. A great replacement for falling asleep with your cellphone.
I see many people doing unnecessary pre-work before doing what they really want to do. "When I do this, then I'll do this". After I make X, then I'll start x. It seems like a mix of being scared to do what you really want, and big picture procrastination. I'm guilty of this too and intimate enough with the experience to be able to work with it.
Already There helps you clear the noise and insecurity, wipe out overwhelm, and feel full and ready no matter where you're in your life.
And take a look at this snazzy logo…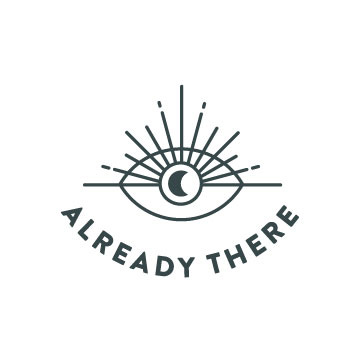 Want to check it out?
I'd love feedback on the first beta printed version. I've heard from the few people I've given it to that it's made them much more content in their day to day. I made a small print run to start here. https://alreadythere.life/.
If you're on the frontlines working on corona, and need a guided journal for good cheer, please let me know. Or even if you really feel you need something like this but don't have the funds right now.
To tie this project together, I worked on an email course explaining all the philosophies of what Already There is about. It's a series of 3 minute daily exercises for 3 weeks designed to make you feel more present and embrace wherever you're in your journey. 
Sign up here and you'll get a daily email for the next three weeks that make you feel that you're right where you need to be. https://alreadythere.life/pages/mindfulness-course
I'm going to be using the journal myself for the next few weeks as way to help orient me as I explore possibilities.
How can I help you?
With starting this newsletter, my intention is to create a list of people I can create for and get feedback from no matter where I am in the world. It's like a more frequent interactive holiday card.
It's going to be my community outside the reaches of social media. Mixing artists, makers, gardeners, philosophers, nomads, entrepreneurs and the all-around stellar people I've met throughout the years of adventures, which includes you.
Feel free to reach out with what you want to know more about, or how I can help in general with your projects. HMU!
Odds & Ends
Books: I'm re-reading Power of Myth by Joseph Campbell and loving it. It's full of gems about navigating myth and psyche. If you're alone and exploring your mindspace consider this companion.
Music: I'm making music most evenings and it feels incredible. Besides polishing off Already There, it's been my other way to get lost in the process of making. I've had a few friends launch albums and singles that I'm digging. Check out Andrew's song Highroglyph, and Miguel's closing album song, Past & Gone.
✌🏽✌🏽✌🏽,
Alfred